Rafael Nadal has won his eighth Roland Garros title after a 6-3 6-2 6-3 victory over compatriot David Ferrer in 2 hours and 60 minutes. A fantastic feat of eight titles at Roland Garros speaks volumes itself but have a read of how he got his elusive twelfth Grand Slam. It shows just how incredible his return from a long injury lay-off has been.
Set One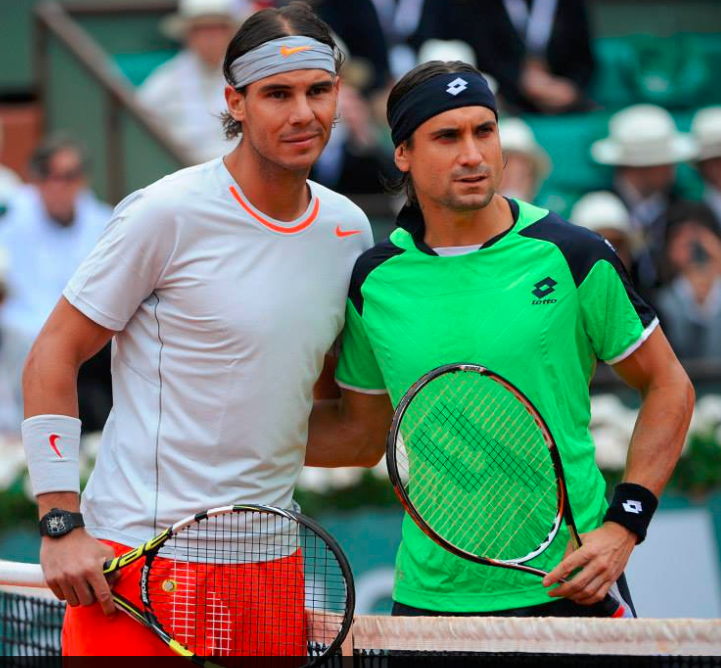 The conditions were quite heavy and dull, not the best for either players. Ferrer, in his first Grand Slam final, had to get off to a comfortable start on his own serve. He did, settling any inevitable nerves, holding to love. Rafa swiftly responded, levelling the match at 1-1. The 31-year-old has quite a weak serve so it's often about where he places it, however it seemed that Nadal was wise to that in the third game of the opening set. He broke to lead 2-1, pushing Ferrer back and deep and into errors.
The king of Court Phillipe Chatrier had seized control but the Spanish number two persisted in pushing his fellow countryman. Ferrer managed to get a break point, which he squandered. But on a second the first-time finalist converted it to break back at the first time of asking, it came after Nadal couldn't prevail in a long rally. After getting back on serve, he held to lead 3-2. Ferrer continued to fire balls at Nadal's backhand to create space on the court, due to his less-powerful forehand winners he needed to create enough space to trouble Rafa.
The reigning champion held to love, dictating the rallies completely. Now 3-3, drizzle began falling but on clay it is, of course, still possible to continue in light rain. On his own serve, Ferrer still had to cover a lot of ground as Nadal continued sending him everywhere. A quick Ferrer struggled to match his opponent at the net and subsequently went two break points down with the score tied at 3-3. Rafa failed to convert both but snatched at getting a third, which he took to lead 4-3. On the point he broke on a dubious shot was contested by David Ferrer, the umpire ruled the shot in Nadal's favour but later turned out to be wrong on TV replays. A bad decision on such a crucial point. Hawk-eye anyone?
Nadal, now serving, found himself break point down. Ferrer couldn't convert it, Rafa didn't give him another chance and held; 5-3. David had to now hold to remain in the first set. The clay king came out the blocks quickly and bagged himself two set points on Ferrer's serve – he took the first to win the opening set 6-3. It was the first set dropped by Ferrer all tournament.
Set Two
Rafael Nadal kicked off the second set with his usual rituals, but he made the changeover rather quicker, trying to maintain his momentum from the first. However, the first game was a messy one for both players, with a plethora of unforced errors allowing Rafa to hold serve. The next two games were still won by the top ranked Spaniard, as Ferrer was quite flat and straight with his shots, whereas Nadal played with more style and curled the ball towards the sidelines, and put tremendous amounts of topspin on so it tucked in to the ground just before it crossed the baseline.
In the next game, Ferrer capitalised on his friend hitting the ball beyond the baseline quite often, and Nadal wrote his own death warrant by netting the ball. In my opinion, the next game decided the outcome of the match. David Ferrer had three break points, but three big forehand winners from the seven-time champion got him to advantage. A lucky return from Ferrer gave him hope. The most dramatic rally of the set followed, the cross-courter tired out both, with a rally with both inches away from each other. Still, Nadal lobbed his fellow countryman, and a perfect forehand down-the-line from the favourite earned Nadal the game, putting the score at 4-1 in the 2nd.
After being pushed to the limit on service, Rafa decided it was time to knuckle down and got out a new racquet.  With his new equipment, he managed to return everything that wasn't on the opposite corner of the court from him. David noticed this and tried to reach the corners, but half the time, due to his inaccurate placement of the ball, it was more like a doubles match. His fatigue showed, but in the next game he was offered respite due to about six children's rights protesters being removed and then followed by a man running out onto court with a flare – he was swiftly removed by security, who acted quickly to also protect the players. This proved good for the fourth seed as he broke very quickly out of the blue. Nadal didn't look particularly distracted, but Ferrer played some great shots down-the-line. The true top seed finished off the set with two great winners, then just allowed his opponent to double fault – as he did at the end of the first set – and then lose it 6-2 with a backhand error.
Set Three
Rafael Nadal started this set positively as well, straight away sending the veteran from side-to-side, showing how unfair a physical contest this was. Unsurprising then, that a forehand or backhand punching the ball down the line was all it took to finish off him off in more than one rally in the opening game. It's also unsurprising because Nadal is the second best server on the ATP tour, winning the highest percentage of service games after Canadian Milos Raonic. It turns of the Spaniard's also quite good at breaking. Returning two from virtually in the crowd, it was an entertaining rally, but two cruel overhead smashes (which, trust me are harder than they look) got Nadal into a perfect position to to go 2-0 up, so he did.
However, with this being his first Grand Slam final in ten years of professional tennis; he wasn't going down without a fight. His fightback didn't start well after a poor call from the line judge, and this was the first time I've saw real anger on the face of Ferrer. This gave him confidence though, and the power that literally makes him scream from his forehands, combined with Rafa's errors, got him a break. Next followed a rain delay, shortened by the impatience of Rafael Nadal. But it had a positive impact of Rafa's opponent – playing in the very light rain – as Ferrer held to level it at 2-2.
Angered by his loss of concentration, Nadal held the next game with two aces, a lot considering he only had four in the entire match. In the next game Nadal again took the lead at 30-0 due to sneezing from someone just behind where the lower ranked Spaniard was serving. Yet somehow the world number five (now four) came back to win the the game and level again at 3-3.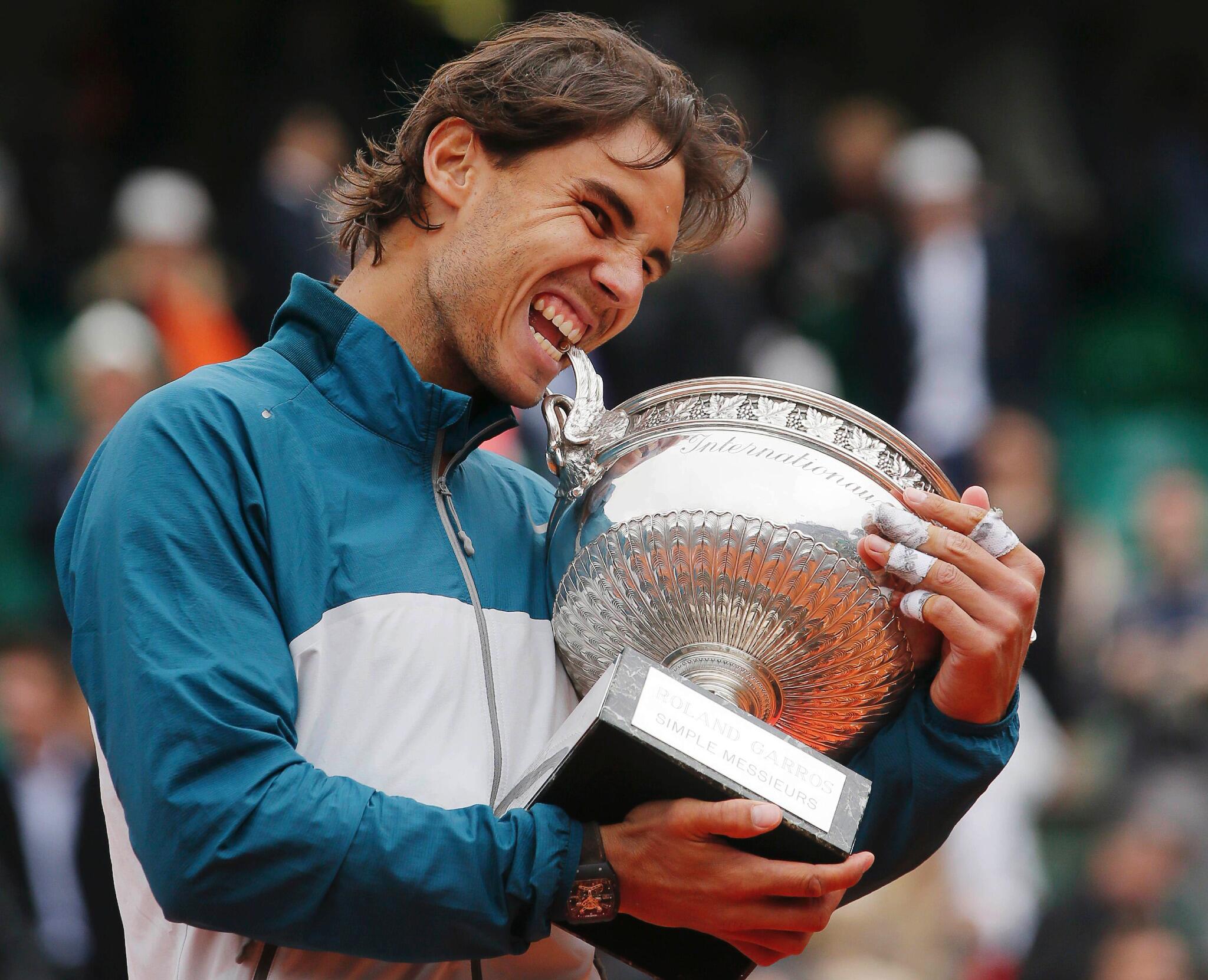 On his next service Nadal was a little careless, and was in no way dominating the rallies, yet the King of Clay still held serve. Ferrer in the next game was on the back foot so tried to copy the swooping forehands of Nadal, but this and his fatigue really didn't help him, and Nadal secured his eighth break of the match. With Ferrer on his last legs, it was easy enough to Rafa to compete the championship winning game to 15, the entire match taking an hour and 16 minutes.
He is now unquestionably the best clay court player ever as this was his eighth Roland Garros title, and has won 60 matches at the venue. This means he has also won the most titles at a single Grand Slam. However, with no opportunity to gain points from this championship, his Spanish friend overtakes him in the ATP rankings.
Congratulations, Rafa!
View our Roland Garros archive, which includes articles from throughout the tournament, by CLICKING HERE.
– Jacob Lee & Nathan Morley